At the origin of my creations / À l'origine de mes créations
As far as I remember, from the moment I knew how to hold a pencil… I drew.
Drawn, scribbled, painted, coloring. The color, I have always had a passion for color. Never favorite color, or so little, but a pleasure to create color combinations, almost instinctively, sometimes all in contrast, sometimes soft or monochromatic. Always with delectation.
I never learned to draw, nor to paint. The few classes I had, at school, proved me that I did not like getting imposed ideas that were not mine. Obviously, having no professional techniques, there are lots of things I do not know how to draw as I would like. But hey, I had fun, and I still do it.
I had the incredible luck of having a godmother artist, who painted and that I admired infinitely. With hindsight, I think it has a lot of influenced my desire to draw. As if her talent reflected on me, as if a link was created between us. She was named Marie Versailles, and I loved her paintings.
This is probably because she has painted a lot of characters, that I had early the desire to draw characters too. Would I have created differently if she had not been in my life? We'll never know.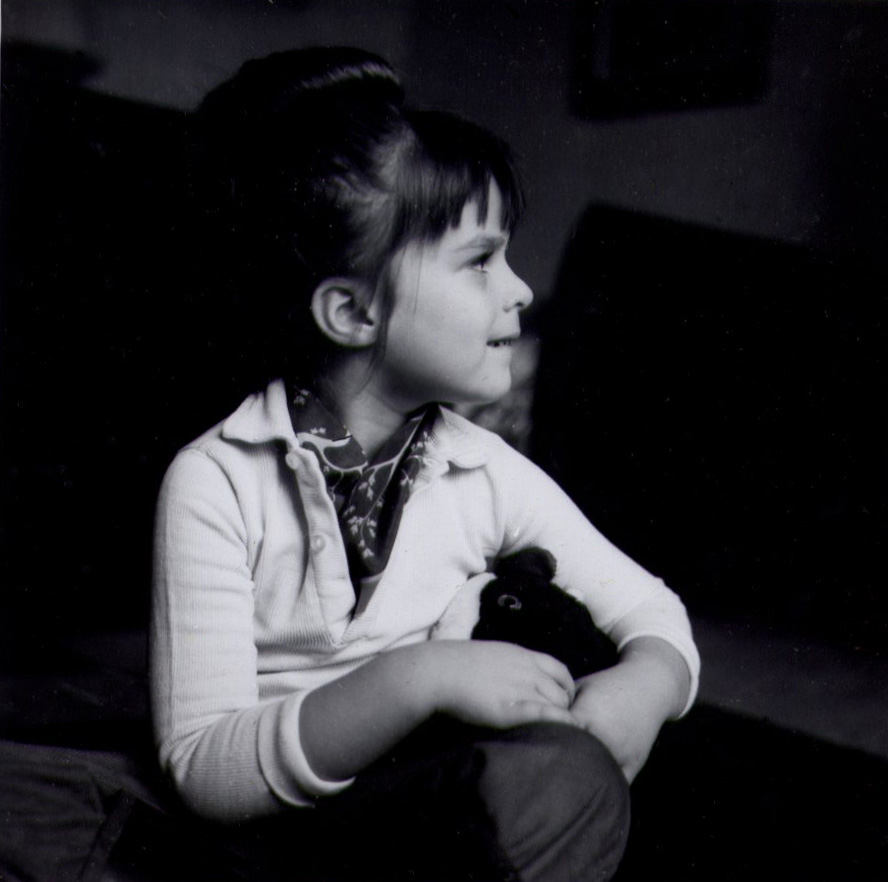 D'aussi loin que je me souvienne, dès l'instant que j'ai su tenir un crayon… j'ai dessiné.
Dessiné, griffonné, peint, colorié. La couleur, j'ai toujours eu une passion pour la couleur. Jamais vraiment de couleur préférée, ou si peu, mais un plaisir de créer des combinaisons de couleur, presque instinctivement, parfois en contraste, parfois en douceur ou camaïeu. Toujours avec délectation.
Je n'ai jamais appris à dessiner, ni à peindre. Le peu de cours que j'ai eu, à l'école, m'a prouvé que je n'aimais pas que l'on m'impose des idées qui n'étaient pas les miennes. Évidemment, n'ayant eu aucune formation, il y a des tas de choses que je ne sais pas dessiner comme je l'aimerais. Mais bon, je me suis bien amusée, et je le fais encore.
J'ai eu la chance inouïe d'avoir une marraine artiste, qui peignait et que j'admirais infiniment. Avec le recul, je crois que cela a beaucoup influencé mon désir de dessiner. Comme si son talent devait rejaillir sur moi, comme si un lien était créé entre nous. Elle se nommait Marie Versailles, et j'adorais ses tableaux.
C'est sans doute parce qu'elle a beaucoup peint des personnages, que j'ai eu dès l'enfance l'envie d'en dessiner. Aurais-je créé différemment si elle n'avait pas été dans ma vie? On ne le saura jamais.

At fourteen, a friend of my mother suggested me to try to sell cards made with the drawings she saw me doing. I followed her advice and I had the chance to be accepted at the Christmas fair that stood annually in my hometown. Nice surprise: I sold all my cards! This fair became a tradition for me, and I have gradually added various types of creations in addition to my cards. I did it without interruption for 10 years.
À quatorze ans, une amie de maman m'a suggéré d'essayer de vendre des cartes faites des dessins qu'elle me voyait faire. J'ai suivi son conseil et j'ai eu la chance d'être acceptée à l'exposition d'avant Noël qui se tenait annuellement dans ma ville natale. Surprise agréable : je les ai toutes vendues! C'est devenu une tradition pour moi, et j'ai graduellement ajouté divers types de créations en plus de mes cartes. Je l'ai fait sans interruption pendant 10 ans.

Here is the kind of cards I used to make. Each was individually designed, and almost always composed of small characters in period costumes.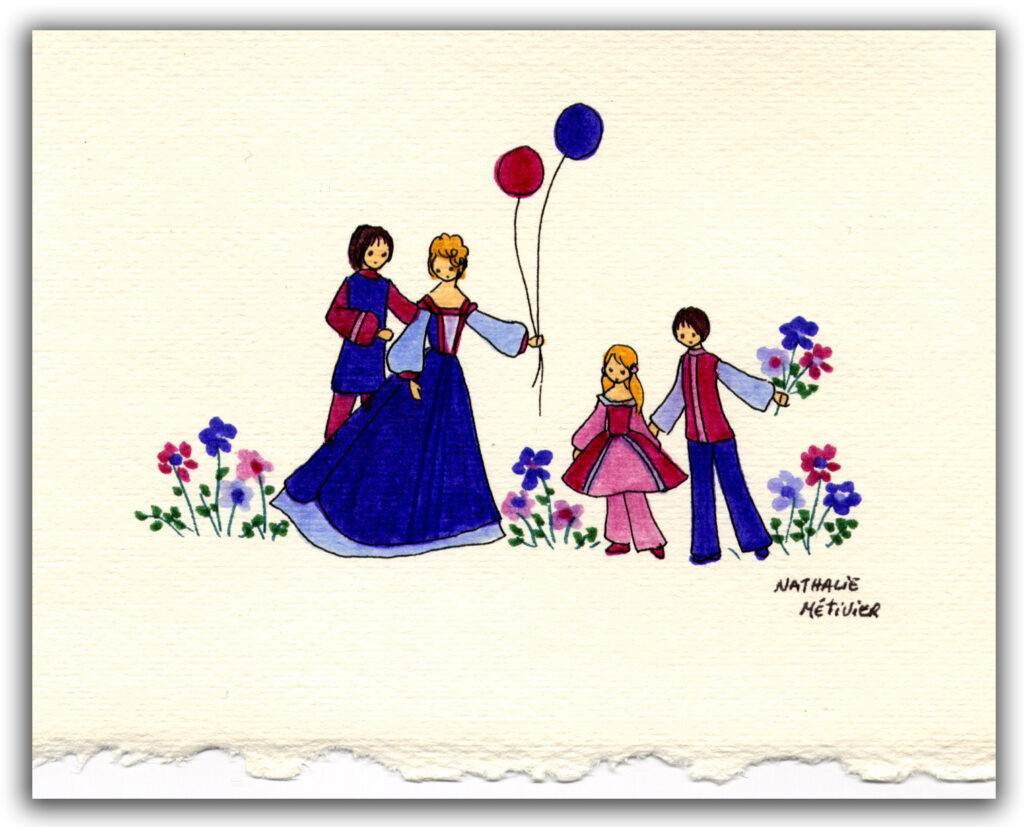 Voici le genre de cartes que je faisais. Chacune était dessinée individuellement, et presque toujours composée de petits personnages en costumes d'époque.
I also liked to make watercolors or inks (always a bit like I thought, since again, I did not have technical training).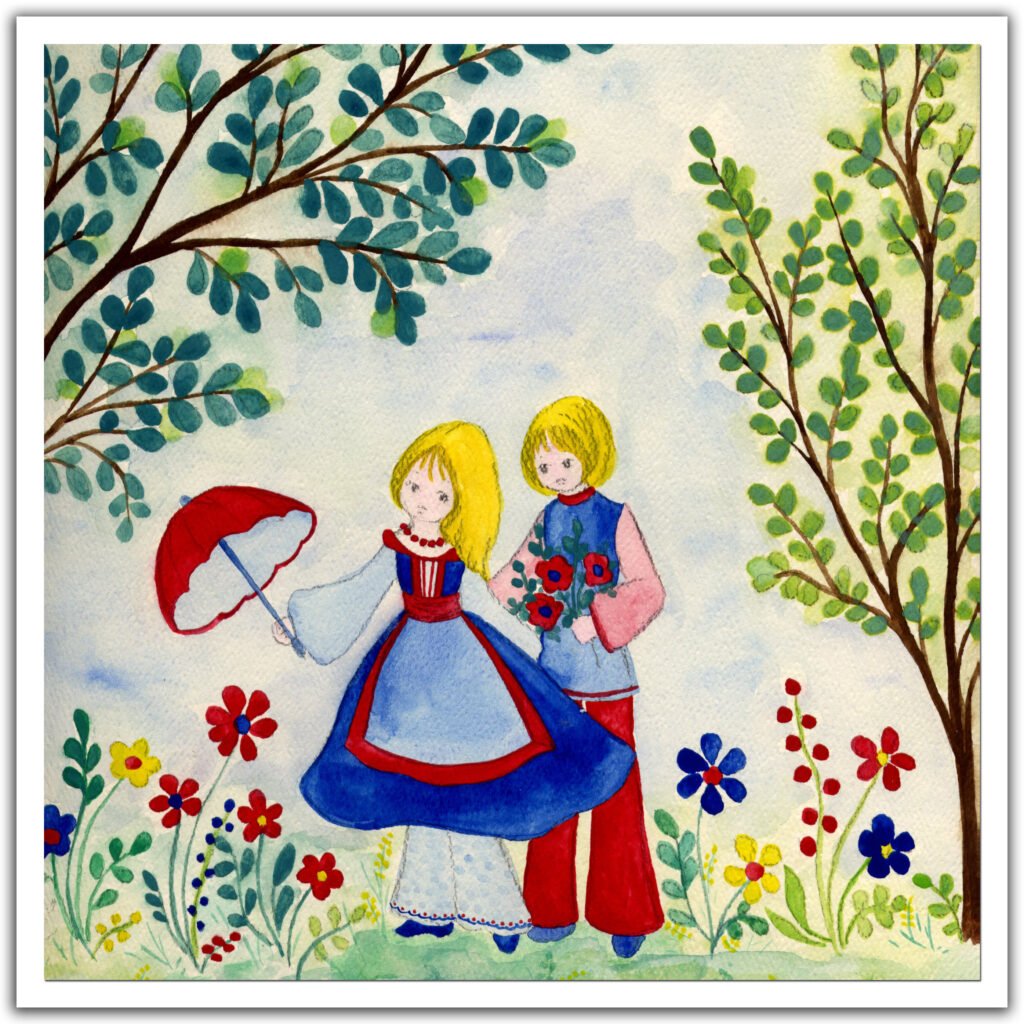 J'aimais aussi faire des aquarelles ou encres (toujours un peu comme je le pensais, puisque là encore, je n'avais pas de formation technique).
I drew also simply for fun, the famous doodles that we do more or less consciously. Mine were almost always faces of girls or young women.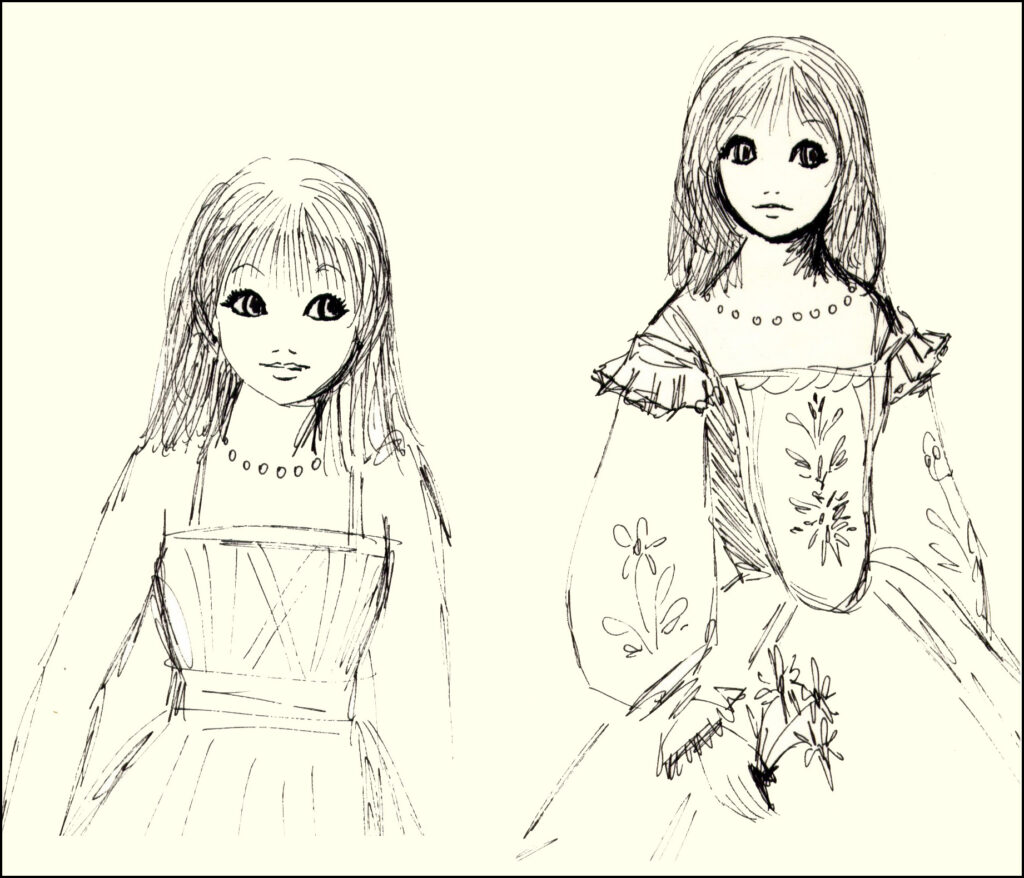 Je dessinais aussi simplement pour le plaisir, les fameux doodles que l'on griffonne plus ou moins consciemment. Les miens étaient presque toujours des visages de fillettes ou jeunes femmes.
More rarely animals, always a bit wacky like these little Christmas mice.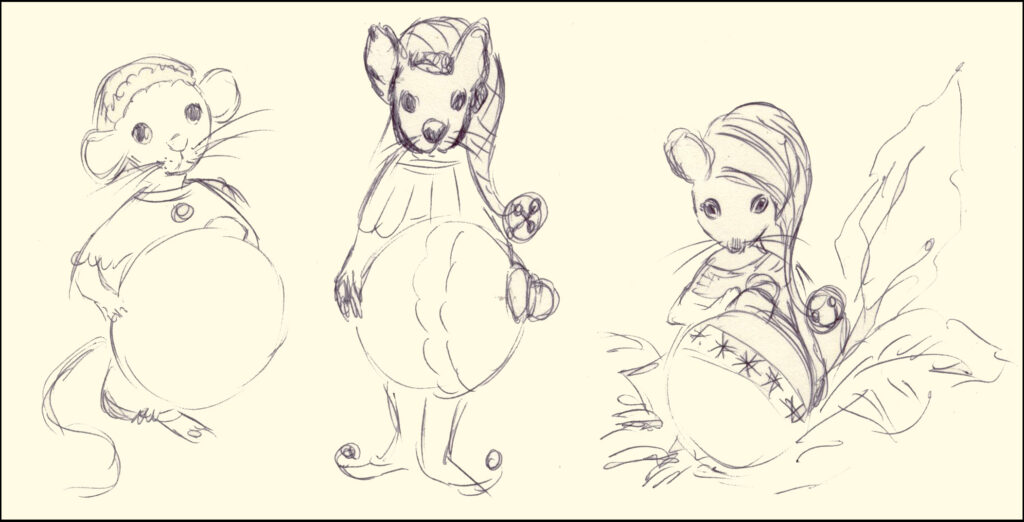 Plus rarement des animaux, toujours un peu farfelus comme ces petites souris de Noël.
It is only later, when I was about thirty years old, after having exercised different jobs, such as correcting texts, teaching art history, teaching tourism… that, with my sister Helene and her husband Daniel, I had the pleasure of participating to the creation of the Magenta rubber stamps company. And there, my drawings have evolved mainly towards images that can become motifs of stamps. I will come back later to this important part of my life.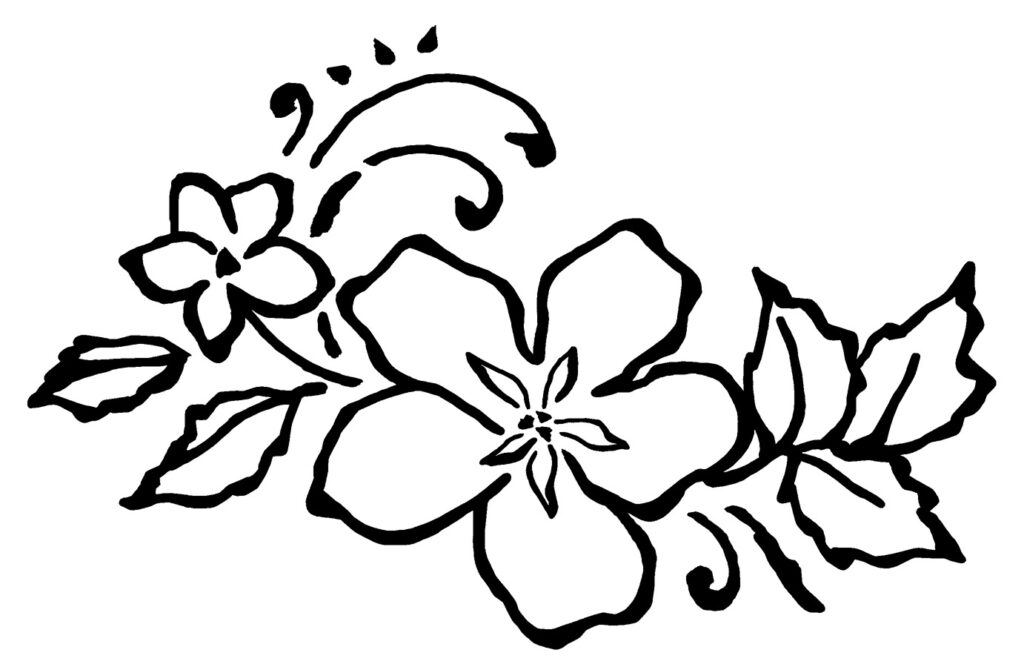 Ce n'est que plus tard, au début de la trentaine, après avoir exercé différents métiers, correctrice de textes, enseignante en histoire de l'art, en tourisme… que, avec ma sœur Hélène et son mari Daniel, j'ai eu le plaisir de participer à la fondation de la compagnie d'étampes Magenta. Et là, mes dessins ont évolué essentiellement vers des modèles pouvant devenir des motifs d'étampes. J'y reviendrai.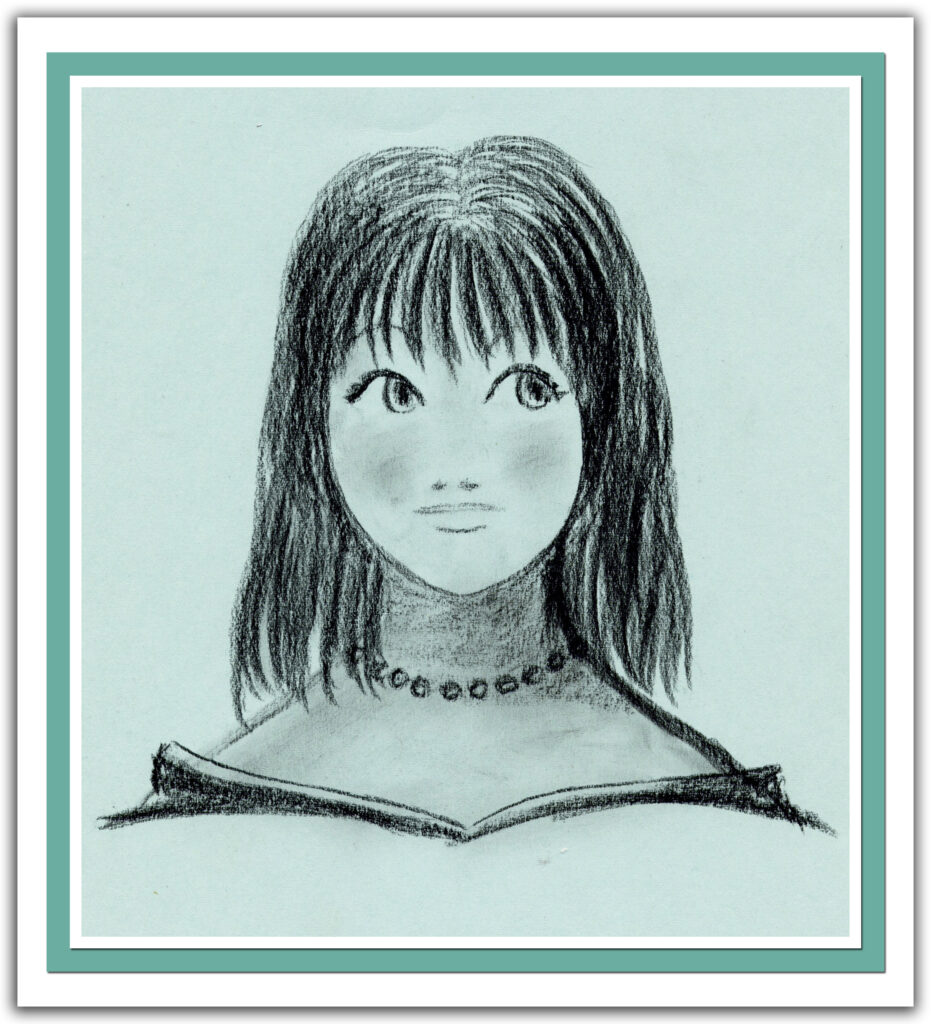 In upcoming blogs I will continue to tell a little my artistic path. So see you soon for more…
Dans de prochains blogs je continuerai à raconter un peu mon cheminement artistique. Alors à bientôt pour la suite…